William A. Schnader (1886-1968)
Although he's been gone for almost 50 years, the legacy of William A. Schnader continues on. During his time as Special Deputy Attorney General and Attorney General he drafted revisions and codifications to many Pennsylvania administrative, banking, corporation, and insurance laws. He is considered the "father" of the Uniform Commercial Code, and was instrumental in the creation and passage of the 1968 Pennsylvania Constitution. It is impressive to note that much of Schnader's work in the legal community happened after he suffered a massive stroke that permanently paralyzed his right arm.
Early Life & Education
William Abraham Schnader was born on October 5, 1886 to Charles B. and Elizabeth S. (Renninger) Schnader. He graduated from Shamokin High School in 1904 and continued his studies at Franklin and Marshall College in Lancaster County. A stellar student in high school, Schnader continued his academic success during his time at Franklin and Marshall. When he graduated in 1908, Schnader was the salutatorian of his class, class president, editor of the Franklin and Marshall Weekly, manager of the football team, and president of the Goethean Literary Society.
After graduating from Franklin and Marshall College, Schnader taught Latin at New Jersey Academy at Bridgeport, N.J. While teaching, Schnader received an academic scholarship to the University of Pennsylvania and began studying law. His time spent at the University of Pennsylvania was equally impressive: he graduated cum laude with an LL.B. degree in 1912, was president of his class, and also served as Editor-in-Chief of the University of Pennsylvania Law Review. From 1912-1914 Schnader held the Gowen Fellowship position at the University of Pennsylvania, which provided him with the resources and opportunity to transition from law student to educator.
Early Legal Career
Schnader was admitted to the Pennsylvania State Bar in 1913 and became a member of the Pennsylvania Bar Association in 1916. He spent his early career teaching at the University of Pennsylvania in both the Wharton School and the law school from 1914-1922.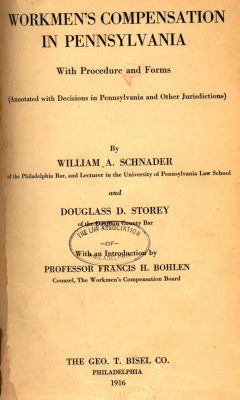 During this time he also aided in the preparation of the Workmen's Compensation Code of 1915 (1915, Jun. 2, P.L. 736, No. 338; legislative history). The work he did for the drafting of this act made him uniquely qualified to collaborate with Douglass D. Storey on the annotated treatise Workmen's Compensation in Pennsylvania: With Procedure and Forms, published by the Geo. T. Bisel Co. in 1916. His notoriety as a legislative draftsman was just beginning. He also aided in the preparation of the Philadelphia City Charter Act of 1919 (1919, Jun. 25, P.L. 581, No. 274, legislative history) and would continue legislative drafting during his time at the Attorney General's Office.
In addition to teaching and legislative drafting, Schnader was also a practicing attorney. First alongside Thomas DeWitt Cuyler from 1913 to 1922, then with the firm Bromely, Evans, Schnader, and Staples. He later joined White, Parry, Schnader and Maris in 1928 (later known as White, Schnader, Maris and Clapp).
Schnader also found time for personal fulfillment. He married Ethel K. Heinitsch on June 9, 1915. The Honorable Charles Klein, a former Philadelphia Orphan's Court Judge, called Mrs. Schnader a "gracious wife" and Bernard G. Segal and Gilbert W. Oswald, both attorneys at Schnader Harrison, called Mrs. Schnader a "wonderful and delightful lady" and credited her "constant devotion and understanding" as one of many reasons for Schnader's professional successes.
The Attorney General's Office and National Professional Organizations
In 1923 Schnader was asked by Governor Gifford Pinchot to serve as Special Deputy Attorney General for the express purpose of preparing legislation to codify and modernize the administrative laws of Pennsylvania. This project was passed as the State Administrative Code of 1923 (1923, Jun. 7, P.L. 498, No. 274). Schnader also worked on its revision, The Administrative Code of 1929 (1929, Apr. 9, P.L. 177, No. 175, legislative history). As Special Deputy Attorney General, he also prepared The Fiscal Code (1929, Apr. 9, P.L. 343, No. 176, legislative history).
In 1930 Schnader was appointed Attorney General and continued in that role until 1935. As Attorney General, Schnader was known for writing his own briefs and personally arguing the cases in the appellate courts. He also issued opinions on legal matters and he encouraged members of his staff to attach their names to the opinions they authored.
Under his guidance, the Attorney General's Office prepared and drafted - and Schnader personally persuaded the legislature to pass - numerous laws, including the Banking Code (1933, May 15, P.L. 624, No. 112), the Building and Loan Code (1933, May 5, P.L. 457, No. 108), the Business Corporation Law (1933, May 5, P.L. 364, No. 106, legislative history), the Department of Banking Code (1933, May 15, P.L. 565, No. 111), the Liquor Control Act (1933, Nov. 29, Extraordinary Session, P.L. 15, No. 4), the Milk Control Board Law (1934, Jan. 2, Extraordinary Session, P.L. 174, No. 37), and the Nonprofit Corporation Law (1933, May 5, P.L. 289, No. 105, legislative history).
During this time period, Schnader became involved in other legal organizations. He was a founding member of the American Law Institute in 1932 and served as First Vice President from 1947 to 1968. He joined the American Bar Association in 1924 and served on the ABA's Standing Committee on Aeronautical Law. In 1924 he also became a member of the National Conference of Commissioners on Uniform State Laws (NCCUSL) and was appointed to the Board of Commissioners on Uniform State Laws of the State of Pennsylvania by Governor Pinchot and served as the NCCUSL president from 1939-1942. In 1933 he also served as President of the National Association of Attorneys General.
The Beginnings of Schnader Harrison
In 1934, towards the end of his time as Attorney General, Schnader was the unsuccessful Republican nominee for Governor. Undeterred by his loss to George Howard Earle III, Schnader teamed up with Francis A. Lewis, the treasurer of his gubernatorial campaign, and Bernard G. Segal, the Deputy Attorney General, to form Schnader & Lewis in Philadelphia in 1935. Segal became a named partner a year later and Earl G. Harrison joined the firm in 1948.
On December 3, 1940, while arguing an insurance dispute in front of the Pennsylvania Supreme Court, Schnader suffered a massive stroke. According to the Legal Intelligencer, "Schnader was taken ill and asked the court to suspend argument temporarily. He walked to a chair and collapsed." Doctors determined the stroke was "brought on from a combination of high blood pressure and overwork." (103 L.I. 1019)
Remnants of the stroke would live with Schnader for the rest of his life. Since his right arm was permanently paralyzed, Schnader taught himself to write, as Segal and Oswald described, "unbeautifully but legibly" with his left hand. He spent much of the remainder of his life in a wheelchair and suffered periodic bouts of depression. Schnader never returned to courtroom practice, but instead turned his attention once again towards legislative endeavors.
The Uniform Commercial Code, the Philadelphia Home Rule Charter, and the Pennsylvania Constitution
Schnader spent the 1940s deeply entrenched in the development and formation of the Uniform Commercial Code. Due to his encouragement, the American Law Institute and the National Conference of Commissioners on Uniform State Laws worked together to create one document that would, as Schnader said at the 50th annual meeting of the NCCUSL, combine and update the laws dealing with "negotiable instruments, bills of lading, warehouse receipts, stock transfers, sales and trusts receipts." The final text of the UCC was approved in November 1951, and Pennsylvania was the first state to adopt it (1953, Apr. 6, P.L. 3, No. 1, legislative history). Because of his great involvement in the formation of the UCC, Schnader is frequently referred to as the "father" of the Uniform Commercial Code.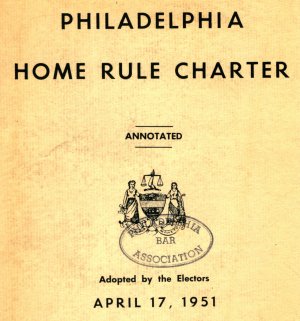 In 1949, the City Council of Philadelphia appointed Schnader to a Commission to develop a new charter for the city. As Chairman of the Drafting Committee, Schnader modeled the first draft of the Charter after the State Administrative Code and was heavily involved in the revision process. The Commission lasted two years, and the Philadelphia Home Rule Charter was adopted by the Electors on April 17, 1951.
One of Schnader's first legislative projects was also his last: updating the Pennsylvania Constitution. Prior to Schnader's efforts, it had been last revised during the Constitutional Convention of 1872-74. Schnader's interest in updating the Pennsylvania Constitution was first recorded in 1925 when, as Special Attorney General, Schnader worked with Governor Pinchot and tried to create a constitutional convention. This action was voted down by the electorate. Schnader was also unsuccessful in 1953 and 1957.
Schnader intensified his efforts for a revision of the Constitution in the 1960s. In 1961 he was elected Vice President of the Pennsylvania Bar Association and encouraged the PBA to authorize a campaign to create legislative amendments to the Constitution. This campaign, plus meetings between Schnader, Governor William Scranton, and other legislative leaders, led to the passing of nine constitutional amendments. Spurred on by this success, a Constitutional Convention was proposed. This would be the first successful convention in 94 years.
Sadly, Schnader was unable to see the fruits of his labor: he died in his sleep on March 18, 1968, just 35 days before the passing of the 1968 Pennsylvania Constitution. He was 81 years old.
His Death and Legacy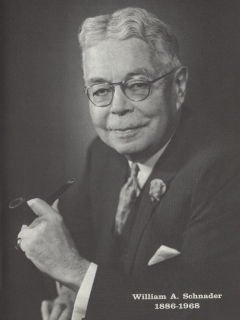 The Philadelphia legal community mourned his passing. The Shingle, the predecessor to The Philadelphia Lawyer, devoted an entire issue in memorial of Schnader's life and legacy (June 1968, vol. 31, no. 6). The issue includes nine separate memorials, each detailing a portion of Schnader's life from colleagues intimately associated with him. The memorials portrayed Schnader as a man who was genuinely interested in the lives of his co-workers, frequently gathering staff together to eat dinner during the workday and taking time to listen to their personal problems. He was not one to hold prejudices: in a time when anti-Semitism was par for the course, he held no qualms starting his law firm with a Jewish attorney. He loved to laugh, and laugh loud. He was fond of games and would frequently beat Klein and Segal at firehouse pinochle.
Schnader also earned many accolades in his lifetime. He received honorary Doctors of Laws from Franklin and Marshall College (1931), Temple University (1952), and the University of Pennsylvania (1963). He was awarded the National Humanitarian Award of the World Brotherhood of the National Conference of Christians and Jews (1951), the American Bar Association Medal of Honor (1960), the Pennsylvania Bar Association's Distinguished Service Award (1964), and the H. Conwell Award from Temple University (1964). In 1968, shortly before he died, Schnader was recognized and honored for his contributions to the new Constitution. He was the only individual given special recognition for his work on the Pennsylvania Constitution (Convention Journal, vol. 1, no. 53, p. 1377-1378).
Mrs. Schnader survived her husband by five years. She passed away on September 8, 1973 and the two share a grave at West Laurel Hill Cemetery.