All in-person CLEs at Jenkins are cancelled through April 13. Visit www.jenkinslaw.org/cle/classes to register for our free Webinar (space limited).
Finding Transcripts on Philadelphia City Council's Legislative Information Center
Interested in finding transcripts of Philadelphia City Council sessions or committee hearings?  When looking for transcripts, it is important to determine the dates of the sessions and hearings related to a bill. These dates may be found in the Details of the bill on the City Council's Legislative Information Center. So our first step is to use the Legislation tab on this site to search for our bill.  Once we have located our bill, we can obtain the dates we need to continue. 
Select the Legislation tab and conduct a search for the bill of interest. Need help searching? See our blog, Finding Bills and Resolutions on Philadelphia City Council's Legislative Information Center.
In our example, we are going to search the Legislation tab for Bill 160304 from August 24, 2016, which amended Chapter 15-600 of The Philadelphia Code, entitled "Parks and Playgrounds," by adding a new section requiring that all parks or playgrounds owned or controlled by the City be more inclusive, inter-generational and family-friendly.
From our search results, click on the hyperlinked bill number to find more information about the bill.

Once you have selected the bill, you will be able to see the History to follow the action related to our particular bill (the History appears in the Details tab). The image below shows just a portion of the History. The complete History listing all the actions is available here.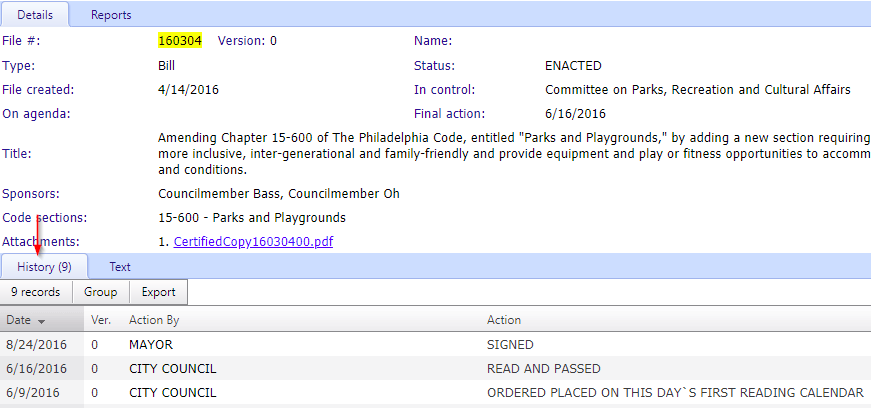 Scroll through the history and note any action saying Hearing Held. Note the date the hearing occurred and the relevant Committee. In our example, there was a hearing held on 6/8/2016 before the Committee on Parks, Recreation and Cultural Affairs.

Now that we have the date and committee information, select Transcript Room. 

The Transcript Room contains transcripts of Committee hearings and Council sessions starting in September 1997. Transcripts may include testimony from witnesses, comments, votes and speeches. All transcripts are made available in '.pdf' format.
From the Transcript Room, you may select to specifically search transcripts of Committee Hearings. 

We are going to select Parks, Recreation and Cultural Affairs from the drop-down options for Committee and 6/8/2016 for the Date.

Click on Retrieve Document and then do Find in Page for 160304. This transcript repeatedly mentions our bill number and is worth investigating. Included in this transcript are testimony of the Commissioner for Parks and Recreation, the Executive Director of the Philadelphia Parks Alliance and an opening statement by Councilwoman Bass.
What other transcripts are available for our bill?  There should also be transcripts of Council sessions. The process is similar to looking for Committee hearings, except we just need dates for the sessions and not the name of a Committee.  The dates may be obtained by browsing through the History of the bill.  Next, go to the Transcript Room, where you may select to specifically search transcripts of Council Sessions. You may check any date of interest.  For our bill, let's take a look at the session for the day the bill passed.  According to the History, the bill passed on 6/16/2016.
Searching the transcripts of Council Sessions for this date gives us one search result.

When we retrieve this document and do a Find in Page for our bill number, we can see how Council voted when the bill was passed.
City Council's Legislative Information Center provides content, like these transcripts of Committee hearings and Council sessions, that is a tremendous help to researchers. This site is a great resource for anyone seeking a better understanding of the process the bill went through on its way to becoming an ordinance.  
Note: City Council's Legislative Information Center contains unofficial copies of bills, resolutions, minutes, agendas and other City Council documents, and is for information purposes only. If you need an official certified copy of a bill or resolution, or an official copy of any other document available on their website, you must obtain such official copies from the Clerk's office, Room 402 City Hall, Philadelphia, Pennsylvania (telephone: (215) 686-3410).