Fastcase* offers a great feature called Public Link. This tool provides a link that can be embedded in a memorandum or other document to quickly pull up a case.  You don't have to be authenticated into Fastcase for the link to work.
Once you have pulled up a case in Fastcase, look for the Public Link option at the top of the screen:

Select Public Link.  Copy and paste the url that appears in the url bar.  This is a static link that will allow you to hyperlink back to your case.
By the end of the year, Fastcase will be defaulting to Fastcase 7 for all users.  To get a preview, sign-in to Fastcase through jenkinslaw.org. Everything will look the same on the Fastcase home page, but notice the toggle switch in the upper right:
Select the toggle to FC7 and you will switch to the new Fastcase 7 platform:

All the great features you enjoyed from Fastcase 6, like Forecite and Authority Check, are easy to use on Fastcase 7, and are joined by new features and improvements. To access Public Link in the new platform, select the Share this Document drop-down: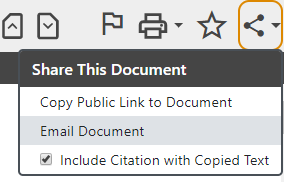 Select Copy Public Link to Document. Insert this link in whatever document you are working on, and you should easily be able to pull back the case.
For assistance using Fastcase, check out their support page with video tutorials or ask us!
 *A 24/7 member benefit for sole practitioners and attorneys in firms with less than 50 attorneys.