We will close at 4:00 pm on Wed Nov 23 for Thanksgiving; we will reopen at 8:30 am on Mon Nov 28.
PA Legal Forms has over 5700 fill-in ready forms on a wide range of topics such as wills & estates, real estate, family law and landlord tenant. Included within this large collection are sample letters. To locate a sample letter on a specific topic, conduct a search using 'letter' and any other key terms of interest.  Another option is to select Sample Letters highlighted in its Most Popular Legal Form Searches.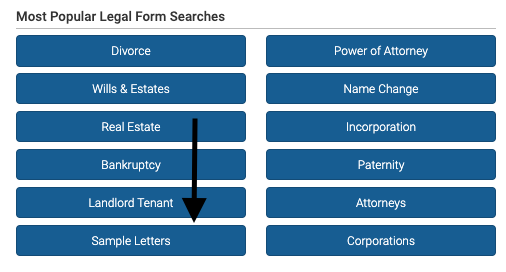 You can also Browse By Main Categories for Letters, which allows you to see all the subjects covered at a quick glance.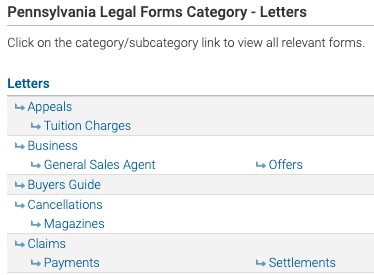 The letters cover topics as varied as those subjects included in the database overall, with a large number for popular subject areas, such as estates and corporations.
One group that may be of special interest to attorneys involves client relations. Find "Sample Letter Regarding Legal Representation", "Sample Letter for Attorney's Fees", "Sample Letter to Client - Termination of Representation" and "Sample Letter to Proposed Client - Initial Appointment" as just a few examples (you must be signed into PA Legal Forms to view).
Although this database is well known for its transactional forms, it does have sample letters related to litigation, discovery, hearings and much more. Some of these are also focused on client relations and cover such subjects as "Sample Letter to Client with Litigation Update - Telephone Call" and "Sample Letter for Correspondence Received from Defendant."
In addition to covering topics that are sometimes challenging to find in other sources, these letters are also easy to use. The sample letters are typically available in MS Word and Rich Text formats.
If you are in need of a sample letter, give PA Legal Forms a try!
PA Legal Forms is a 24/7 member benefit that is available to all members.  Need help using it? Ask us.