Open for visitors from 10:00 am - 4:00 pm. No mask required.
Using the PA Bulletin's List of Pa. Code Chapters Affected
We recently wrote a blog post about pacodeandbulletin.gov, where you can find two essential resources for researching administrative rules and regulations in the state: The Pennsylvania Code and the Pennsylvania Bulletin. In this follow-up post, we're highlighting the PA Bulletin's List of Pennsylvania Code Chapters Affected, which helps users find recent changes to regulations that may not have been incorporated into the PA Code yet.
When researching particular PA Code sections, it's useful to check the Source Notes (often located at the end of a section or at the beginning of a (sub)chapter, for example) which should indicate whether sections have been amended over time.
However, some changes to code sections are so recent that they may not have been included in the PA Code at the time of your research. As of this writing in June, 2021, for example, the electronic version of the PA Code reflects changes through March 27, 2021 (check the homepage of pacodeandbulletin.gov for currency information, as seen below).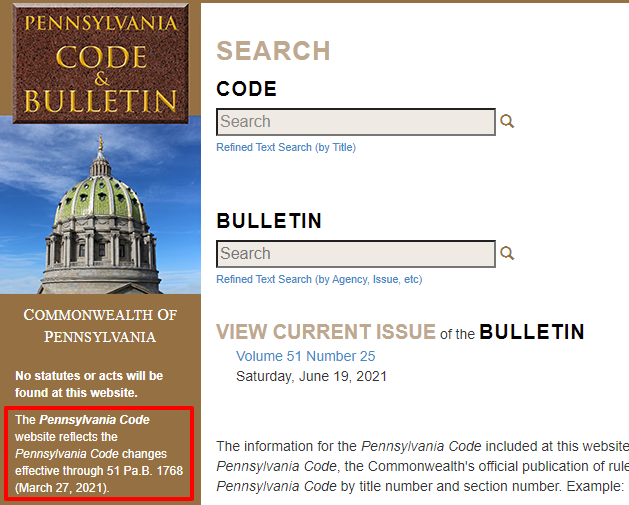 To see if particular code sections have changed since that date, you'll need to check the most recent issue of the PA Bulletin. This is where the Bulletin's List of Pennsylvania Code Chapters Affected comes in handy. This list displays which PA Code titles and chapters have been affected by amendments or other documents published in the PA Bulletin during the current calendar year to date. The list also directs you to the PA Bulletin page number where you can find such changes.
In this scenario, the most recent issue of the PA Bulletin is Vol. 51, Issue No. 25, published June 19, 2021, and its List of Pa. Code Chapters Affected is on page 3334. The list shows, for example, that there have been numerous changes within Title 4 (Administration) of the PA Code during 2021 to date. Specifically, section(s) within Chapters 6, 7, 602, and 607 of Title 4 have been amended by Adopted Rules this year. Chapter 9 of Title 4 was also affected by Statements of Policy.

To see the specific changes that have been made to sections within those Chapters, use the PA Bulletin page numbers listed. To see the Adopted Rules that affected Chapters 602 and 607 of Title 4, for example, find page 425 of the PA Bulletin.

Because issues of the Bulletin are published weekly, and its page numbers are continuous across the issues in each volume, you will likely need to look in a different issue for the correct page number. Use the Browse feature on the homepage to locate the correct Volume (published by year) and issue Number (published by week; page numbers are listed for each week). In this case, open Volume 51 (2021) and navigate to issue Number 4, published January 23, 2021 to view page 425.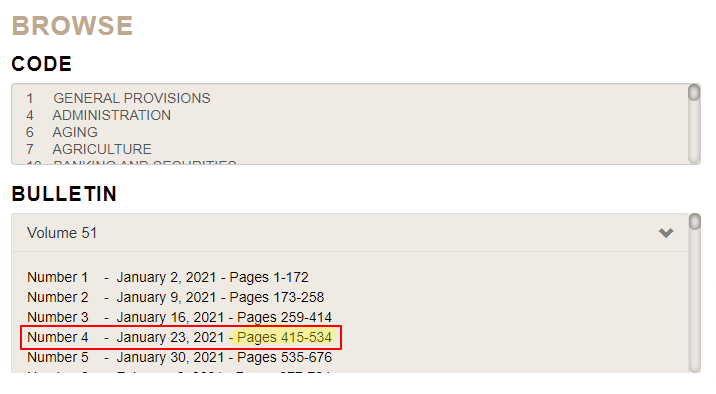 For additional tips and tools for finding the most up-to-date rules and regulations, check out the "Reader's Guide to the Pennsylvania Bulletin and the Pennsylvania Code" near the beginning of each PA Bulletin issue, or Ask Us.