The American Law Institute (ALI) organizes its Restatements of the Law into "series". Many times, the later series of a Restatement topic supersedes all or a portion of the earlier series of that topic. If you have a citation to an earlier series and need to know where it is in a later series, use the parallel tables found before the index of most Restatement subjects. These tables show corresponding section numbers between two series of Restatements. Some parallel tables may connect section numbers of the final Restatement with one or more earlier drafts. When using these parallel tables to find where an older series (or draft) section is located in a newer series, be sure to check all volumes of the current series - in some instances, the parallel tables only point to the sections found in that particular volume.
Jenkins members can access the Restatements on HeinOnline (available to most members on their desktops), on the library's Westlaw computers, or in print in the library.
On HeinOnline, use the linked table of contents on the left to navigate to the parallel tables.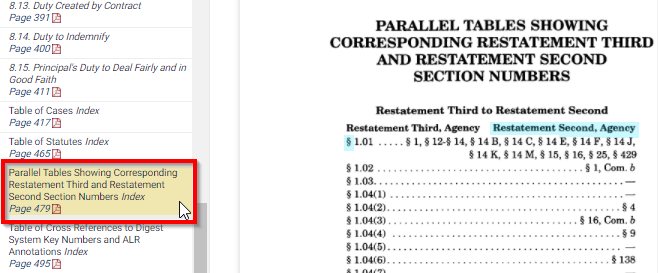 On Westlaw, the parallel tables are listed at the bottom of the table of contents.
In print, use the table of contents to find where the parallel tables are located in the volume.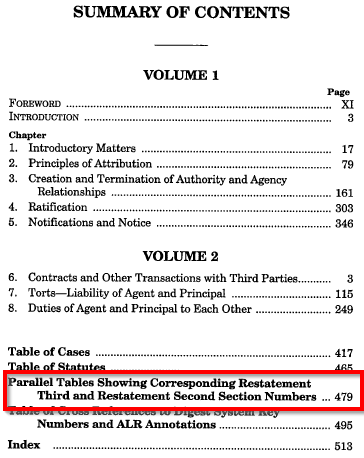 The Restatement Research Guides note each time the librarians at Jenkins have found parallel tables in the Restatements.
Need additional help navigating the Restatements? Ask us!