Open for visitors from 8:30 am - 5:00 pm. Please wear a mask.
U.S. Constitution Day and the Constitution Annotated Online
Today is Constitution Day, an annual observance held on September 17th to celebrate the signing of the U.S. Constitution on September 17, 1787. Jenkins had hoped to be able to celebrate this memorable day and the reopening of the library after the pandemic together with our members and friends with edible treats throughout the day. With so much uncertainty regarding ongoing health concerns we felt it was of the utmost importance to keep everyone safe by curbing group functions at the library. Here's to hoping that we will be together again soon and be able to celebrate!
We also want to let you in on a little secret. Our Board president Theodore" Ted" Simon was born on Constitution Day (not 1787). If you'd like to send your best wishes, you can email him at president@jenkinslaw.org.
To commemorate Constitution Day this year, let's take a look at the Constitution Annotated Online, the web version of the Constitution Annotated. The Constitution Annotated is "the only constitutional law treatise formally authorized by federal law" (Intro.6.1 Methodology of the Constitution Annotated). It aims to help those researching the law to read and interpret the Constitution with annotations to Supreme Court caselaw and defining historical practices for each article and amendment of the U.S. Constitution. The publication is periodically updated by the Librarian of Congress and attorneys at the Congressional Research Service. Congress has authorized the revision of the Constitution Annotated through 2 U.S.C. §168.
Users can search or browse the text of the Constitution Annotated. To browse annotations by the article or amendment, select "Browse Annotations" from the menu in the header of the website. You can also link to the annotations from the text of the Constitution by choosing the "U.S. Constitution" link.

To run a search, enter your search terms in the search bar. Results can be filtered by "Articles and Amendments", "Topics", and "Resources" from the results page. For information about search operators, click the "Search Help" link.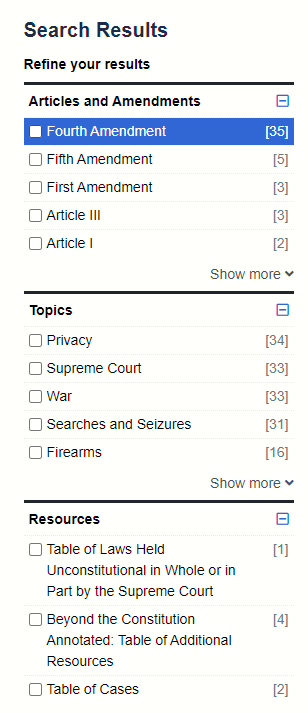 The Constitution Annotated Online also provides access to several useful tables from the "Resources" page. Tables include the "Table of Cases", "Table of Supreme Court Decisions Overruled by Subsequent Decisions", "Table of Laws Held Unconstitutional in Whole or in Part by the Supreme Court", "Table of Supreme Court Justices", and "Beyond the Constitution Annotated: Table of Additional Resources".
Visit constitution.congress.gov and start researching with the Constitution Annotated Online!