This year Jenkins is celebrating our 220th anniversary! We were founded in 1802 in a small room in Independence Hall by a group of lawyers who combined their financial resources to purchase legal books for the growing law community in the city. We hold the prestigious position as "America's First Law Library".
But we're not resting on our laurels. Jenkins continues to meet the changing expectations of our members. We offer 21 different remote-access databases, so you can discover relevant cases and browse through electronic books and treatises from home or the office. Our free Zoom CLE webinars and video on demand classes let you take credits anywhere you have an Internet connection. (We've had students participate from Canada, Israel, Sicily and even the back seat of a car heading up to New York.) Most importantly, we have experienced reference librarians available to answer questions via email, phone and when you visit in-person.
And if you want to visit, our facility is open and fully-staffed Monday-Friday. We feature an extensive print collection along with electronic access to Bloomberg, Lexis, VitalLaw (formerly Wolters Kluwer Cheetah) and Westlaw. Combine that with our state-of-the-art public scanner, free wifi and other useful services, and you'll think of Jenkins as your second office.
As part of our anniversary year celebration, Jenkins has added some new services:
vlex - a great source for primary international legal materials; available remotely 24/7
Our catalog - we'll soon be rolling out a new interface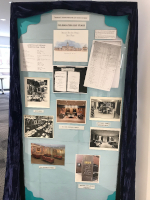 We've created a lobby display featuring some interesting mementos from our history -- images and photos of our previous locations (including Independence Hall and City Hall), photocopies of a couple of pages from our first library catalog (1805), and a reproduction of the list of our first members.
You can click on the thumbnail to see a larger version of the image, which you can zoom in and out. Or, better yet, why not stop by and see it for yourself? While you're here, you can check out all that we have to offer you.
Mature experience and youthful energy ... that's Jenkins Law Library!