Did you know that document and contract review software is available on the library's four Lexis terminals? Jenkins' onsite Lexis+ subscription includes access to an AI-powered feature called Document Analysis that allows you to upload and analyze briefs and agreements to bolster your practice in both litigation and transactional law.
According to Lexis, Lexis+ Brief Analysis employs Artificial Intelligence to help you build better arguments or discover weaknesses in those of your opponents', find support for your strategy, utilize Shepard's analysis to confirm "good law", and ensure the accuracy of quotes and citations. Brief Analysis can also be used to examine both sides of an issue by comparing multiple briefs. You may upload documents in PDF, DOC, DOX, or TXT formats (up to 20MB per file). 
Lexis also introduced Lexis+ Agreement Analysis this past June. This tool currently leverages AI to scrutinize merger, stock purchase, and asset purchase agreements (Lexis plans to add more transactions in the future). The results can assist you in identifying key deal points, locating relevant resources from Lexis' Practical Guidance, and comparing alternate clause language. AI is used to recommend alternate language extracted from a bank of seven million clauses obtained from publicly filed SEC documents. Drafting guidance may also be available. Currently, documents must be uploaded in DOX format. 
To access the brief and agreement analysis tools upon opening Lexis+, click on the Document Analysis icon on the left-hand side of the page.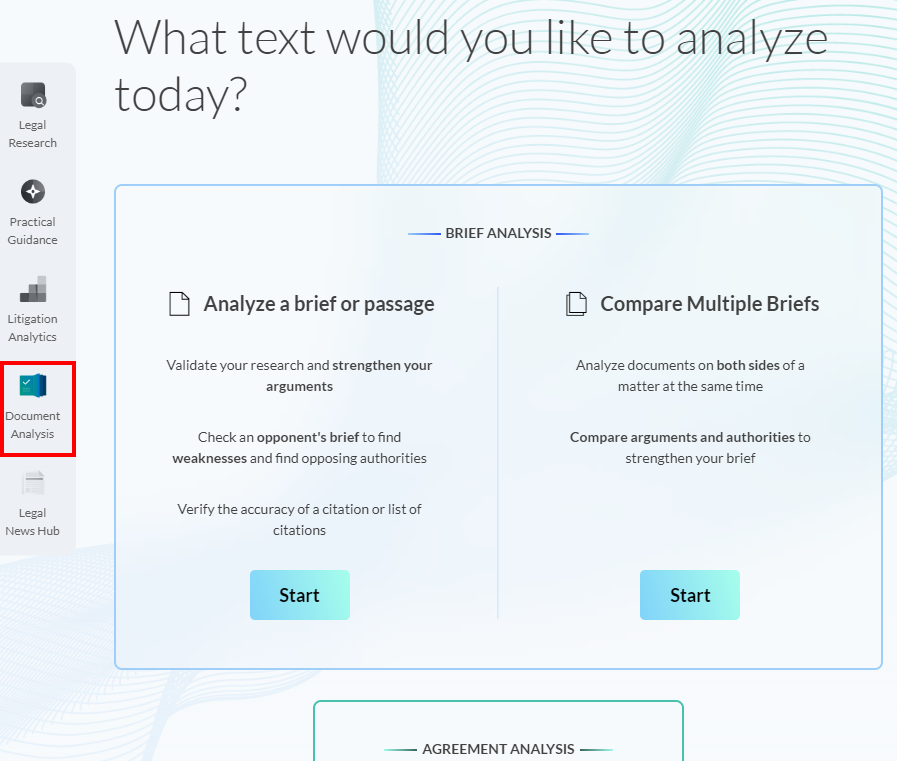 When you upload a file, it will be encrypted for purposes of data security (furthermore, Lexis states that "the full text from the user's document is not stored beyond the current [Document Analysis] session") before being analyzed.
You will then see a Dashboard with an overview of various areas of analysis. 
For Brief Analysis, the dashboard includes components such as:
Recommendations (suggested Cases, Practical Guidance, Treatises, Arguments for selected passages)

Similar Briefs

Cited in your Document

Quote Check
For Agreement Analysis, the dashboard includes components such as:
Clauses Breakdown

Source Breakdown

Tools & Resources
For more information, Lexis provides some helpful videos on using its Document Analysis software, including: