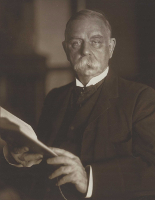 John G. Johnson
The Movember Foundation, founded in Australia in 2003, challenges men to grow mustaches during the month of November as a way to start conversations about men's health.
The Jenkins' Portrait Collection includes many prominent historical figures of the Philadelphia legal community with great mustaches. Law firm founders John G. Johnson (Duane Morris and Saul Ewing), George Wharton Pepper (Pepper Hamilton), and William A. Schnader (Schnader Harrison) are on display in the Reference Room. Jenkins has two portraits of F. Carroll Brewster, former Philadelphia City Solicitor, Common Pleas Judge, and Attorney General, with great facial hair: the first as a young man with a full beard in the Reference Room, and the second as an older gentleman with a gray mustache in the hallway between the Circulation Desk and the Pennsylvania Collection.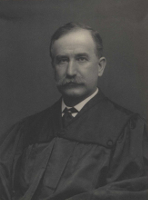 D. Newlin Fell
Other portraits at Jenkins with interesting mustaches include Pennsylvania Supreme Court Chief Justices D. Newlin Fell and James Tyndale Mitchell, Pennsylvania Supreme Court Judge Alexander Simpson, Pennsylvania Superior Court Judge J. Henry Williams, Philadelphia Common Pleas Judges Eugene V. Alessandroni, Abraham M. Beitler, and William H. Staake, and Philadelphia Orphan's Court Judge William Hanna Brantley.
Come visit Jenkins to see these mustaches and other great displays of virulent facial hair. And for more information on Movember and men's health, visit the Movember Foundation.