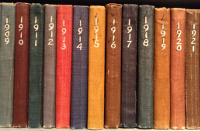 Philadelphia Legal Directories
This week is the American Library Association's Preservation Week. Preservation Week is a way to raise awareness to the abundance of materials in need of care and attention to retain their usability as their stability declines.
Jenkins does its best to preserve many historic Pennsylvania and Philadelphia legal resources. Our Rare Book Room is temperature and humidity controlled to protect the materials from deterioration due to heat and moisture. The resources kept in our Rare Book Room include the main volumes of Purdon's Pennsylvania Statutes going back to the 1930s and the pocket parts back to the 1970s (select pocket parts from earlier years are also available), the Pennsylvania court rules back to 1788, the Philadelphia court rules back to the 1800s, materials relating to the various Pennsylvania Constitutional Conventions, older versions of the Philadelphia Code, and the Philadelphia Legal Directory back to 1888. Our collection of Legal Intelligencers, the legal newspaper for Philadelphia, goes back to volume 1 from 1843.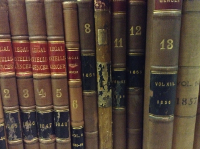 Legal Intelligencers
In celebration of ALA Preservation Week, library visitors are invited to take a look at our Rare Book Room display window for a glimpse into Jenkins' 200 year history. On display is one of the early handwritten lists of members and dues paid. This list includes prominent members of the Philadelphia legal community, like Horace Binney (member of the U.S. House of Representatives), Alexander J. Dallas (U.S. Attorney for the Eastern District of Pennsylvania and U.S. Secretary of the Treasury), William Rawle (founder of Rawle & Henderson), John Sergeant (member of the U.S. House of Representatives), and his brother Thomas Sergeant (Pennsylvania Supreme Court judge). Two other items on display are handwritten lists of titles purchased for the library. These titles include items like 3 volumes of Johnson's Reports purchased on August 19, 1809 for $18.00, Marshall on Insurance purchased on November 28, 1810 for $12.00, and Gillbert's Evidence purchased on December 10, 1810 for $2.00.
Interest from the Audenried & Gest Fund helps us maintain the collection. However, we are unable to fill in gaps in the collection or add to it. Donations from our members would assist us in improving this valuable resource. Click here to donate now. Jenkins Law Library is a nonprofit organization, qualified under Section 501(c)(3) of the Internal Revenue Code. All contributions to the library are tax-deductible to the full extent allowable by law.