We will close at 4:00 pm on Wed Nov 23 for Thanksgiving; we will reopen at 8:30 am on Mon Nov 28.
You may already know that NewsBank gets you access to text from over 10,000 newspapers, from local newspapers and magazines to national news sources. Whether you want to read news about a popular topic, search across its millions of full-text articles, or set up an alert for a specific term, NewsBank is an ideal solution.
Note: This post has been updated for 2018 to reflect the new interface.
Have you considered using this membership benefit to regularly read your favorite subscriptions, or test drive new ones? You can access NewsBank from anywhere, and even set up daily headline alerts for recently published stories in a publication, with links to the full story.
Here are local examples that are updated regularly as of February 2018:
Philadelphia and its surroundings aren't the only cities whose papers appear in NewsBank, though. Here are some national favorites:
In Pennsylvania alone, NewsBank has papers from over 100 cities, from Pittsburgh to Primos, and Harrisburg in between. If you work or reside outside of Pennsylvania, check if your local paper contributes. Here are just a few other cities with local paper coverage:
...And international options are widespread too, from Afghanistan to Zimbabwe. Here are two popular cities:
Publications & The Web
Newspapers and periodicals frequently publish content online to everyone, as well as articles just for subscribers. NewsBank sometimes handles this by presenting the two sources as separate publications. For example, search the A-Z Source List for Newark's newspaper, The Star-Ledger.

There's only one paper by that name, but two results in NewsBank. The first result will list articles that may be available online, but it also includes articles that aren't freely available on the Star-Ledger's website. It's all part of your membership, though, so your choice won't result in any fees.
Current Coverage
Remember to check that coverage is current. For example, here's a list of news sources from West Chester, PA. Note the Date Range column indicates that the Daily Local News is only current from 2007 - 2012. The West Chester University Quad and West Chester Life are updated through present day.

Some news items may not be available right away. The physical subscription may also include content from the Associated Press and other papers through content agreements - on your physical newspaper, that information is usually on or near the byline. That content will not be found on The Philadelphia Inquirer's NewsBank page, however you may find it on the pages of the publication listed in the byline.
Alerts: Ease Fido Into Retirement
If you set up a publication alert, you can receive headline alerts when new content is published on NewsBank for your selected publications. You can even set up alerts for selected sections within a specific publication, so you can automatically follow local politics alongside the sports section of your favorite team's hometown paper.

To start, find your selected publication. If you need help, many of the links above will take you straight to a particular publication or a city's publication list. You can alsosearch the A-Z Source List or conduct an Advanced Search to search by location, either internationally or just within the United States.

Once you've located the publication, ensure that the publication continues to submit content to NewsBank by checking the View Recent Issues section (see screenshot below). Then, if you wish to receive email alerts for any new published content, click Create Alert under the publication title.

To view an issue, select a date. Articles from that day will be listed, grouped by section.

If you only want an alert for specific sections of the paper, open the publication page and click the Advanced Search option. Select Section from the drop-down menu and enter the section title, then click Search. In this example, we are looking for any articles in the Opinion or Editorial sections. After conducting the search, click Create Alert.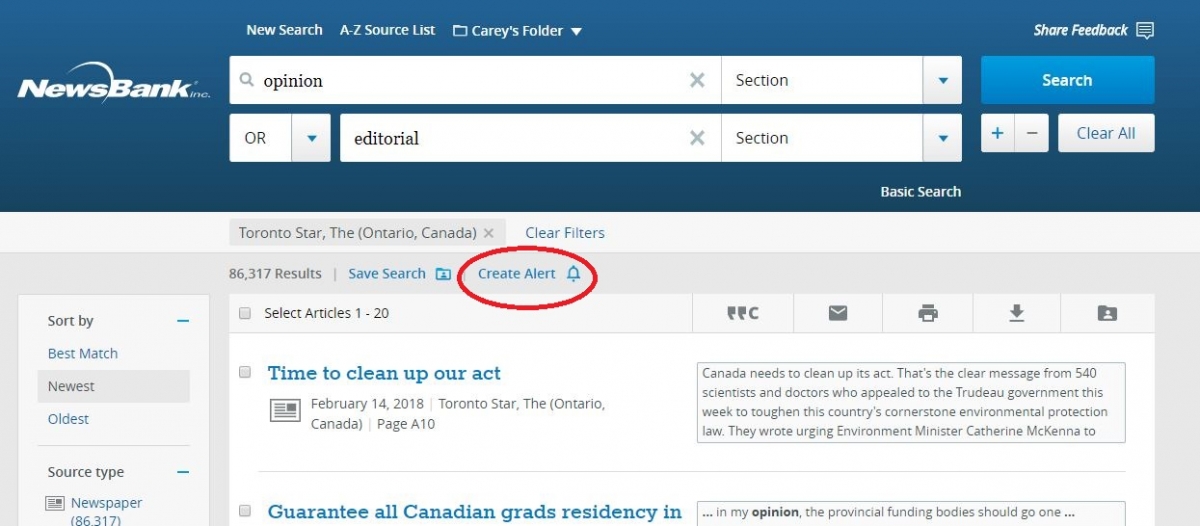 Whether you're setting up a publication-wide alert or plan to monitor a specific section, you will be asked to enter your email address and select a frequency. Note that you can decide to receive alerts up to four times a day, twice daily, once daily, or weekly. Then click Create Alert, and the service will start immediately. You can cancel an alert directly from the email.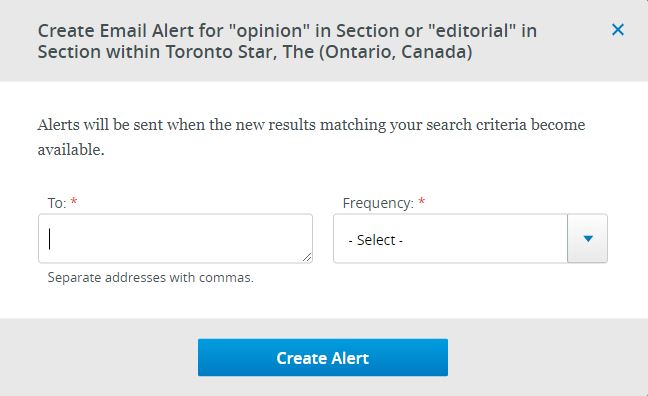 To save documents and manage multiple Newsbank alerts over time, you can Create a Personal Folder account from the Session Folder menu on any screen.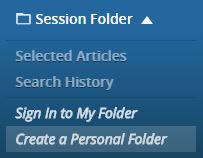 Finally, content on NewsBank won't appear as quickly if you got it directly from the source. On the publication page, look at the most recently available publication to get an idea of the delay. For example, content from The Philadelphia Inquirer frequently won't be available until the day after it was published.