Trying to work remotely and need to view a brief? At Jenkins we have a large collection of Pennsylvania briefs and records from the Pennsylvania Appellate Courts. After 2006, most of the material has been digitized, and much of it is accessible for free to Jenkins' members in our Court Records & Briefs database.  
If you are looking for a particular brief, you can search this database by Case Name or Docket Number.  You can also do a general Full Text search through any of the digitized content (2006 - current). Results can be filtered by Court or Year.
Once you have run your search, view your results. Material that is in electronic format (2006 - current) will appear in your results list with a little thumbprint image of the document.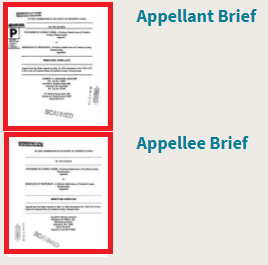 In order to view an item, it must be indexed as a brief. Both the documents in the above example can be viewed on your desktop because they are labelled as Appellant Brief and Appellee Brief.  Just select the item to see the digital version.
If the label includes the terms Record, Appendix or the more generic Document, it will not be accessible on your desktop even if the item is digitized.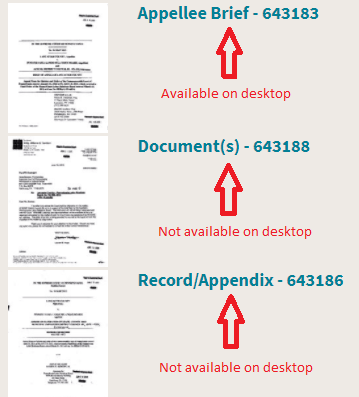 For more information on obtaining those digitized items not available on your desktop, please email us at research@jenkinslaw.org. We may be able to offer you free options for viewing the document; however, in most cases it can be ordered through our Document Delivery department for our standard charges.
Most older items (pre-2006) have not been digitized, although index entries will appear in the database.  This older material exists in our collection on microfiche. Even though our physical space is temporarily closed due to the COVID-19 pandemic, it is still worth emailing us about material before 2006.  We would be happy to check additional sources to make sure we do not have access to this content while working remotely.