Open for visitors from 10:00 am - 4:00 pm. No mask required.
The Restatements of the Law are a common secondary legal resource produced and published by the American Law Institute. The goal of the Restatements is to clarify notable legal subjects. According to ALI, the Restatements are "primarily addressed to courts" and "aim at clear formulations of common law and its statutory elements or variations and reflect the law as it presently stands or might appropriately be stated by a court."
The Restatements cover a number of areas of the law, including agency, contracts, property, torts, and trusts. They are valuable for both experienced practitioners and for those just beginning their legal research journey. Their compiled case annotations can be useful tools to determine how a Restatement provision has been applied by a particular court. These annotations are available in print, on the member database HeinOnline, and on the library's Westlaw computers.
In print, case annotations can be found in pocket parts, cumulative supplements, appendices, and interim case citation pamphlets. Pocket parts are published annually and placed in the back inside "pocket" of the Restatement. Generally, pocket parts include annotations that have cited the provisions found in that volume. Corrections to the Restatement volume are also found in the pocket part. When a pocket part has grown too large to fit in the pocket of the book, a softbound cumulative supplement is published instead. When the annotations become extensive, they are transferred to a hardbound Appendix volume. Not all Restatements have appendix volumes, and some have multiple appendix volumes. Interim case citation pamphlets are published twice a year and contain case summaries for all Restatements and Principles of the Law that have been decided after the last pocket part. For more information on case citations, see ALI's Frequently Asked Questions page.
On HeinOnline, these annotations can be found under the Restatement subject in files named Case Citations, Cumulative Annual Pocket Part, and Appendix. The Case Citations files on HeinOnline are not cumulative. To be thorough, researchers should check all Case Citations files dated after a Cumulative Annual Pocket Part and/or Appendix.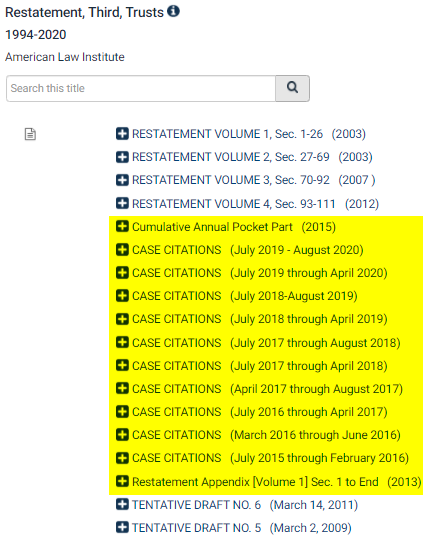 On Westlaw, available in the library, case annotations follow the text of the Restatement section and are labeled "Case Citations". They can be filtered by jurisdiction.
Westlaw indicates the currency of these annotations in the update information found above the Restatement section. In addition, KeyCiting the Restatement section by using the Citing References tab may lead to additional case citations as well as other types of documents. When applicable, these may include trial court orders, administrative decisions and guidance, other secondary sources, appellate court documents, trial court documents, and more.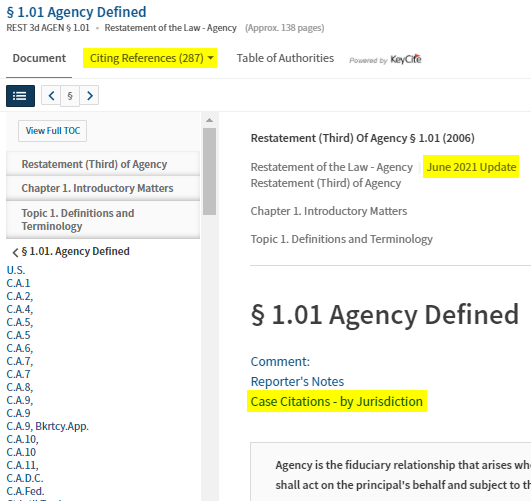 For more detailed information about how to find annotations to each Restatement of the Law, check out our Restatement research guides or ask us!