We will close at 4:00 pm on Wed Nov 23 for Thanksgiving; we will reopen at 8:30 am on Mon Nov 28.
Finding Older Versions of the Federal Rules of Civil Procedure
Looking for older versions of the Federal Rules of Civil Procedure? Check out our research guide on the Federal Court Rules. We have a handy table which helps you quickly navigate to older versions of the rules through the United States Code on HeinOnline*.
The Federal Rules of Civil Procedure first became effective in 1938 (known then as Rules of Civil Procedure for the District Courts of the United States) and have since been included in Title 28 of the United States Code. A new edition of the United States Code is published every 6 years with annual cumulative supplements that follow. The 1940 edition of the Code was the first edition to include these rules (although their first appearance was in United States Code Supplement 5 (1939), a supplement to the 1934 edition).
Our table covers from 1940 - 2018 (the latest edition of the Code).  Find the year of interest in the table and then select the link to be taken directly to the start of the rules in HeinOnline.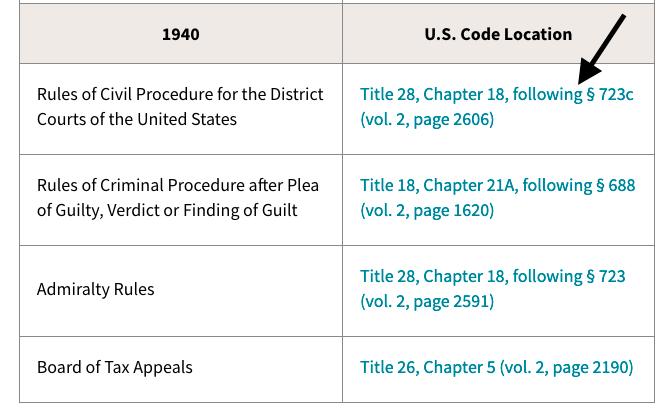 If the rule you are interested in was added or amended between editions of the Code, use the annual supplements, also available on HeinOnline.
Historical versions of the rules are also available on Lexis (1992-current), Westlaw (1990-current), govinfo (1997-current) and in our print collection (1985-current).
Need to track the federal court rules back further than 1938? Ask us for suggestions on where to look!
*HeinOnline is a membership resource available to most Jenkins members.