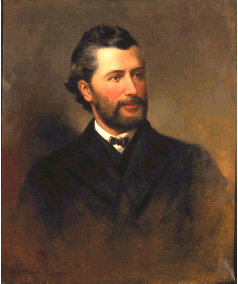 F. Carroll Brewster
Frederick Carroll Brewster (1825-1898) was a Philadelphia lawyer, City Solicitor, Court of Common Pleas judge, and Pennsylvania Attorney General. He authored a number of books, many of which are in the Jenkins Law Library collection. Jenkins' Portrait Gallery includes two paintings of Brewster attributed to Samuel B. Waugh, one of which was copied from an original work by Stryer. Library users may request the book In Memoriam: F. Carroll Brewster from our Rare Books collection to read a detailed biography of his life and legal career, as well as commemorative speeches from the "Associated Students," "Lawyers' Club of Philadelphia," and the "Five O'Clock Club of Philadelphia."
F. Carroll Brewster has the unique distinction of being featured in two portraits in the Jenkins' Portrait Collection. A painting by Samuel B. Waugh of Brewster as a young gentleman is located in the Reference Room near the dictionary stand. The hallway near the Rare Books Room holds another image of Brewster in his later years. That portrait was also painted by Waugh, but it was copied from an original painted by Stryer.
A descendant of one of the Pilgrims who landed at Plymouth in 1620, F. Carroll Brewster was born in Philadelphia to Francis Enoch and Maria (Hampton) Brewster. He graduated from the University of Pennsylvania with honors in 1841 at the age of 16. Brewster continued his involvement with the university and later obtained an honorary Doctor of Laws degree, was elected President of the Alumni Society in 1868, and gave a cornerstone speech at the opening of the University of Pennsylvania's West Philadelphia campus in 1871.
After being admitted to the Philadelphia Bar in 1844, F. Carroll Brewster married Emma Barton in 1850 and worked alongside his father, who was also a lawyer. Although Brewster focused on civil cases for most of his career, he successfully defended several high-profile murder and self-defense cases in his early years of practice. Some of his other notable legal victories involved contested elections, securing acquittal for the president of the Pennsylvania Bank who was accused of conspiracy to defraud, and defending the constitutionality of the Legal Tender Act of 1862 in the Schollenberger-Brinton case, 52 Pa. 9 (1866). Jenkins also has briefs related to the Schollenberger-Brinton in our Court Records & Briefs Index.
Brewster was elected Philadelphia City Solicitor during a period of financial upheaval caused by the Civil War, and he held the position from 1862-1866. During his time as a practitioner and City Solicitor, he argued more than 70 cases before the Pennsylvania Supreme Court and also argued before the U.S. Supreme Court. One of his successful outcomes in the U.S. Supreme Court was Gilman v. Philadelphia, 70 U.S. 713 (1865) which determined the right of the city to build the Chestnut Street Bridge over the Schuylkill. A notable case in the Pennsylvania Supreme Court involved the will of the late Stephen Girard and the Girard College Trust funds bequeathed to Philadelphia. Girard's surviving sons wanted to overturn the will and divide the estate, but after an appeal to the Supreme Court Brewster secured the trust funds for the city and Girard College. He went on to argue several other cases involving the Girard Trust throughout his career.
In 1865 Brewster was re-elected to a second term as City Solicitor, but left the position in 1866 to serve as a Philadelphia Court of Common Pleas judge. He presided over several notable murder cases and contested elections from 1866-1869. He was then elected Solicitor of the Board of City Trusts and appointed Attorney-General of the Commonwealth by Governor John W. Geary in 1869. The State Supreme Court Reports contain more than 30 cases that he argued before the Supreme Court during his tenure as Attorney-General from 1869 through 1872.
After retiring from the Attorney-General position, Brewster continued to practice law until he passed away on December 30, 1898. In his free time, he instructed students and was active in clubs including the Union League, the Art Club of Philadelphia, the Historical Society of Philadelphia, the Pennsylvania and Philadelphia Bar Associations, the Law Association of Philadelphia, and the Five O'Clock Club of Philadelphia. He was also a founding member and the first President of the Lawyers' Club, and the University of Pennsylvania's F. Carroll Brewster Law Club was named in his honor. Minutes and speeches from some club meetings honoring Brewster after his death may be found in the book In Memoriam: F. Carroll Brewster. This book also has pictures of Brewster's private office and waiting room at 214 West Washington Square, just a few blocks from Jenkins' current location.
A prolific author, many of Brewster's works can be found in the Jenkins Law Library collection. Some notable legal titles include Brewster's Reports (in print, microform, and on LLMC), Blackstone's Commentaries for American Students in the Form of Questions and Answers, A Treatise on Practice in the Courts of Common Pleas of Pennsylvania (First and Second Editions), A Treatise on Practice in the Orphans' Court, and A Treatise on Equity Practice in Pennsylvania. Brewster also wrote Molière in Outline, a translation of a selection of Molière's work, and Disraeli in Outline, a biography of Disraeli and an abridgment of his novels. His Address before the Law Academy of Philadelphia: Rights and Duties of Lawyers is reprinted here and here. Additional cases are available in HeinOnline's World Trials Library. Jenkins' librarians have also compiled a list of historical Legal Intelligencer articles that mention Brewster. If you wish to obtain any of these resources, please call the research department at 215.574.1505, email us at research@jenkinslaw.org, or chat with us.