Jenkins Members with access to Fastcase* will now have not only a great tool for searching case law, but Fastcase's Treatise collection as well! Previously, these titles could only be searched by logging into a separate platform called Loislaw Libraries on Fastcase. Now users will be able to perform one integrated search on Fastcase.  In the new Fastcase 7 interface, results can easily be filtered to cases, statutes or treatises. Material in the treatise collection includes: Bromberg and Ribstein on Partnership, Americans with Disabilities Act Handbook 4th, The Law of Lawyering 4th, Wigmore on Evidence 4th and Epstein on Intellectual Property 5th.
For information on how to access Fastcase 7, see Fastcase 7 has Arrived.
To find a specific treatise on Fastcase 7, navigate to Outline View, located at the top of the screen, next to the search bar:

Once in Outline View, select Treatises >> Federal for the full list of libraries: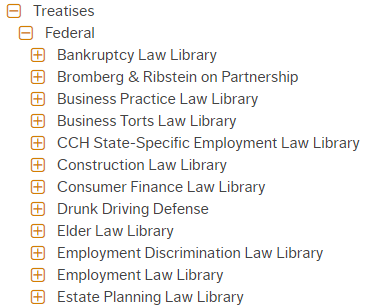 If using the Fastcase 6 (Legacy) display, select "Search Loislaw Libraries" from the browse menu on the left side of the screen:

For members who do not have access to the standard Fastcase collection, our Treatises On Fastcase database still provides access to only the treatise materials.
*A 24/7 member benefit for sole practitioners and attorneys in firms with less than 50 attorneys.