New Chrome Extension: Access The Oxford English Dictionary From Any Website
Speed your legal research by installing our OED lookup extension, built just for Jenkins members. This Chrome extension allows you to instantly define a selected a word or phrase, using the Oxford English Dictionary, available via your membership.
Once installed, users can select a word or phrase, right click on the highlighted word(s) and click Define Selection. If you're already logged into our website, you will be sent directly to the Oxford English Dictionary search results for the selected terms.


The extension also adds a shortcut to your toolbar, to the right of the URL bar, that will enable you to access the Oxford English Dictionary immediately.
Once installed, you will not need to visit our website to launch the Oxford English Dictionary. Just click the new icon and, if you're logged into our website, a new Chrome tab will open to the dictionary.
To install the extension, visit the extension page in the Google Web Store by clicking here. Then click Add To Chrome.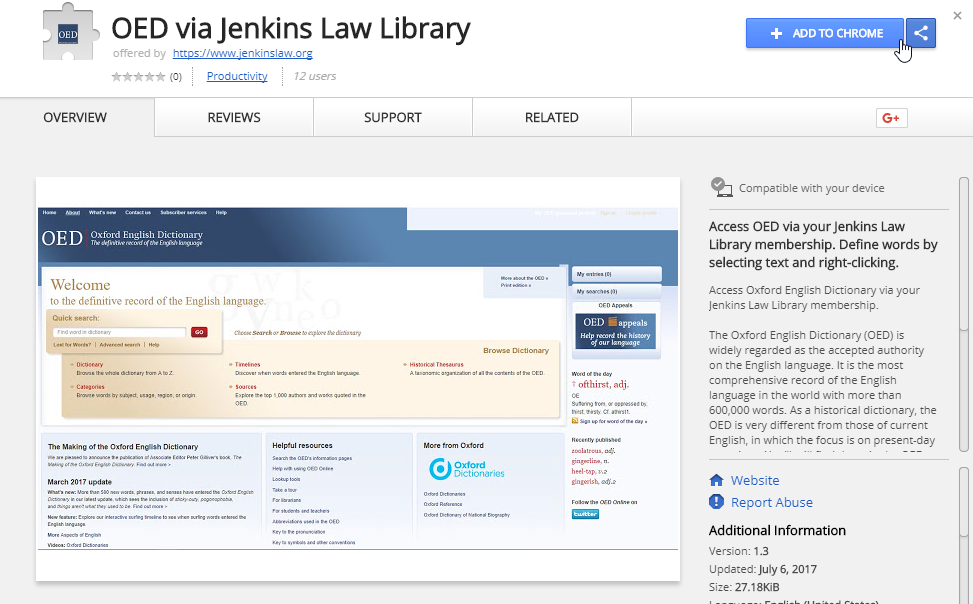 The extension will request permission to install. Click Add extension.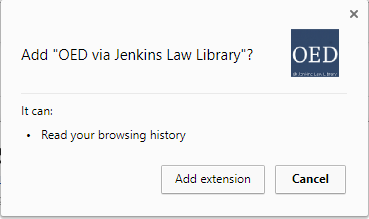 After installation a button will appear to the right of the URL bar.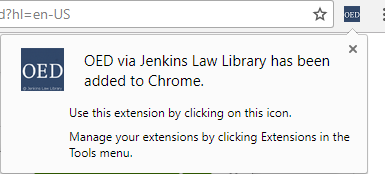 You must be using Google's Chrome browser to install this extension. While we're confident this will work on the latest version of Chrome, we cannot troubleshoot Chrome-specific issues.
This is Jenkins' second Chrome extension. In June we shared that we launched our first Chrome plugin, a browser button that speeds members' access to Fastcase.