Finding Federal House and Senate Reports Using HeinOnline
The U.S. Congressional Serial Set Collection on HeinOnline is a fantastic resource for finding congressional documents. This collection includes House and Senate Reports, House and Senate Documents, and select additional materials. The materials from this collection come from the American State Papers (1789-1838), the Congressional Serial Set (1817-2017), as well as the more recent Congressional Documents (2018-2022) and Congressional Reports (2018-2022).
Because of the large size of the project, HeinOnline is releasing the content in phases. As of October 2022, there is complete indexing of all materials in this collection. HeinOnline also has complete PDF coverage of the American State Papers and Congressional reports and documents from the 115th-117th Congresses (2017-present) and 98% PDF coverage of the Serial Set.
HeinOnline's "Quick Finder" and "Citation Lookup" tools are helpful if you know the report number you are looking for. Simply select the category that covers the year of the report or document and use either the Quick Finder or Citation Lookup Tool:

If you don't know the report number, use the Advanced Search option to construct your search: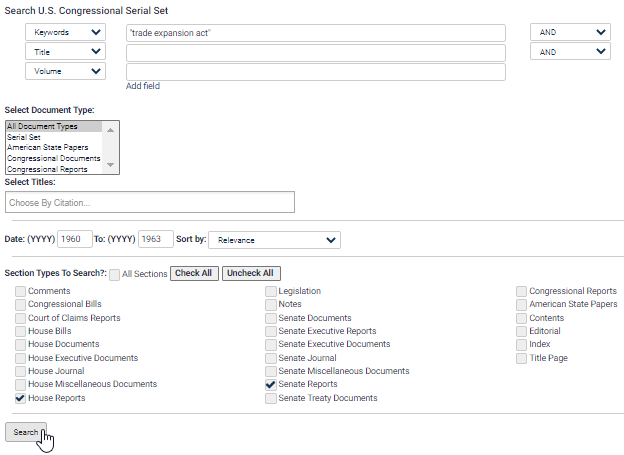 For additional tips on using this collection, check out HeinOnline's LibGuide: https://libguides.heinonline.org/us-congressional-serial-set/about.
Want to know more about the history found in the Serial Set? Check out Secrets of the Serial Set, HeinOnline's monthly blog where they explore notable events as seen in the Serial Set. Prior posts include Susan B. Anthony and Women's Suffrage, The Rise and Fall of Alcatraz, and Yellowstone National Park.
HeinOnline is a membership resource available to most Jenkins members. Need help navigating HeinOnline? Ask us!